Among the original progenitors and standard bearers of Italian furniture design—the intrepid canaries when home furnishing was little more than a utilitarian cave—Zanotta has carved out an all but untouchable place in the ranks of contemporary luxury. The first to grace its catalogue with works by some of the industry's boldest names, in sixty years Zanotta's amassed a veritable pantheon of award-winning designs, with almost a fifth residing in permanent museum displays.
Zanotta is Heritage, Italian Craftmanship, Radical & Pioneering Design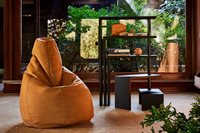 Zanotta's story is the story of sixty years of insights and records, of risks and curiosity, and above all of special results that few companies can boast: with over 550 products made, Zanotta has a place of its own in the great world of design.