Design by passion
When Aurelio Zanotta opened the doors to his eponymous label in 1954, its initial focus was on the production of sofas and armchairs which, at the time, were overwhelmingly the domain of upholstery workshops. But Zanotta's vision far exceeded the largely utilitarian scope of local upholsterers. Beyond its surface functionality, he recognizedin furniture design a new form of cultural expression—a venerable creative outlet worthy of the same respect afforded to traditional artistic exploits like painting and sculpture. Bolstered by instinct, charisma, and a natural interest in emerging materials and technologies, his unique and, at the time, revolutionary path brought Zanotta into contact with some of the now legendary icons of Italian design.
Designers
With more than 150 currently available items incorporating the visions of 143 designers hailing from 18 countries, Zanotta's catalogue is marked by a distinct, and indeed exceptional, degree of heterogeneity. But the common thread running through those items, and perhaps the cornerstone of the Zanotta project, is a flair for originality— whether it issues from the masters and unsung heroes of history, or those still destined to be discovered.
Product types include sofas, beds, chairs, tables, accessories, and a bevy of creations for outdoor, among them numbered and limited editions.
Discover Zanotta designers
Premi
Representing landmark innovations in typology, technology, and form, many of Zanotta's products are recognized today as true icons in the annals of design, referenced in academic books and exhibited in the most prestigious decorative arts institutions around the world. Some of its longtime, multi-awarded best sellers—the Sacco, Mezzadro, Sciangai, Quaderna, Tonietta, Leonardo and others—remain just as relevant and sought after now as in previous decades.
58 award-winning designs
9 international recognitions
4 Compassi d'Oro awards
331 pieces in the permanent collections of 57 museums
Acca, Allunaggio, Aster, Berlino, Birillo, Brasilia, Butterfly, Cassia, Castiglietta, Cumano, Dan, Drop, Echino, Elipse, Fly, Gilda, Globulo, Grand'Italia, Guscio, Invisibile, Jack, Joy, Lia, Loto, Louise, Maggiolina, Marcuso, Mezzadro, Ninfea, Oliva, Petalo, Poker, Quaderna, Raw, Ricreo, Sacco, Santina, Sciangai, Servento, Servobandiera, Servolibro, Servomanto, Servomostre, Servostop, Soft, Speed, Spiffero, Tempo, Throw-Away, Toi, Tonietta, Tucano, Unanotte, Veryround, Za:Za, Zurigo.

Discover the awarded products that are currently in the Zanotta collection:
I nostri prodotti
nei musei nel mondo
Zanotta ha lasciato un'impronta indelebile nel mondo del design, con i suoi 330 prodotti presenti nelle collezioni permanenti di ben 80 musei in tutto il mondo.
ADI Design Museum Milano, Italy (3)
Brooklyn Museum New York, U.S.A. (2)
Centro per l'arte contemporanea Luigi Pecci Prato, Italy (1)
CID au Musée du Grand Hornu Hornu, Belgium (2)
Cité de l'architecture & du patrimoine Paris, France (1)
Civiche Raccolte d'Arte Applicata Milano, Italy (1)
Cooper Hewitt Smithsonian Design Museum New York (3)
Dallas Museum of Art - Dallas, U.S.A. (3)
Denver Art Museum Denver, U.S.A. (2)
Design Museo Helsinki, Finland (6)
Design Museum Gent, Belgium (12)
Designmuseum Danmark Copenhagen, Denmark (2)
Die Neue Sammlung München, Germany (21)
Fond National d'Art Contemporain Paris, France (2)
Fond National d'Art Contemporain Puteaux, France (2)
Fondazione Triennale Design Museum Milano, Italy (17)
Fonds Régional d'Art Contemporain Dunkerque, France (5)
Freud Museum Wien, Austria (1)
Gustav-Lübcke Museum Hamm, Germany (3)
High Museum of Art Atlanta U.S.A. (1)
Indianapolis Museum of Art Indianapolis, U.S.A. (5)
Israel Museum Jerusalem, Israel (16)
Kunstgewerbemuseum Berlin, Germany (17)
Kunstmuseum Düsseldorf, Germany (9)
LAB Museo del Design - fondazione Anna Querci Calenzano, Italy (3)
Lippisches Landesmuseum Detmold, Germany (1)
Los Angeles County Museum of Art Los Angeles, U.S.A. (1)
M.A.X. Museo Chiasso, Switzerland (6)
Metropolitan Museum New York, U.S.A. (1)
Musée d'Art Moderne Villeneuve d'Ascq, France (1)
Musée de la ville de Saint-Quentin-en-Yvelines Montigny le Bretonneux (1)|
Musée des Arts Décoratifs Bordeaux, France (4)
Musée des Arts Décoratifs Paris, France (6)
Musée National d'Art Moderne Paris, France (13)
Museo del Design 1880-1980 Milano, Italy (9)
Museo tattile statale Omero Ancona, Italy (3)
Museum Boijmans-Van Beuningen Rotterdam,The Netherlands (1)
Museum für Angewandte Kunst Köln, Germany (15)
Museum für Angewandte Kunst Wien, Austria (2)
Museum für Gestaltung Zürich, Switzerland (9)
Museum für Kunst und Gewerbe Hamburg, Germany (7)
Museum of Modern Art Saitama, Japan (6)
National Gallery of Victoria Melbourne, Australia (1)
Nordenfjeldske Kunstindustriemuseum Trondheim, Norway (2)
Philadelphia Museum of Art Philadelphia, USA (2)
Powerhouse Museum Sydney, Australia (1)
Tel Aviv Museum of Art Tel Aviv, Israel (1)
The Chicago Athenaeum Chicago, U.S.A. (3)
The Design Museum London, Great Britain (6)
The Montréal Museumof Fine Arts - Montréal, Canada (15)
The Museum of Modern Art New York, U.S.A. (12)
The Saint Louis Art Museum St. Louis, U.S.A. (3)
Thessaloniki Design Museum Saloniki, Greece (27)
Trapholt Museum Kolding, Denmark (1)
Uméleckoprumyslové Muzeum Praha, Czech Republic (4)
Victoria & Albert Museum London, Great Britain (4)
Vitra Design Museum Weil am Rhein, Germany (20)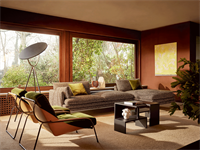 Zanotta, from A to Z.
Founded in 1954, Zanotta is recognized as a major player in the history of Italian design. Guided by the intuition and extraordinary entrepreneurial ability of its founder Aurelio Zanotta, the company initially focused on the production of sofas and armchairs, going beyond the artisan tradition of the upholsterer's workshops - to which the production of upholstered furniture normally referred - and moving towards "cultured" design, establishing itself among the companies that wrote the first significant pages in the history of Italian design.Since the 1960s it has thus conquered the international scene thanks to products that are emblematic for their formal innovation and technological research supported by the continuous evolution of the quality of materials and production processes.

In April 2023 Zanotta was acquired by Cassina and became part of the Haworth Lifestyle Design group along with other prestigious brands Cappellini, Ceccotti, Karakter, Poltrona Frau, Luxury Living, JANUS Et Cie, Luminaire and Interni.